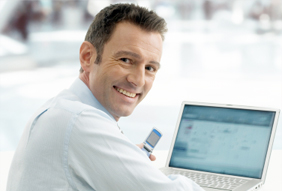 Powerful tools help manage your cash flow
With secure round-the-clock access to your accounts, you'll never need to leave your office to make a transaction.  And, since the technology is web-based, there's no software to install and you can access the site from any computer in the world. With Cash Management, you can quickly and easily:
Transfer money between accounts

Schedule automatic transactions

Issue stop payment

Request a variety of reports

Set balance accounts alerts

Print transaction history

View checks and deposit slips

Issue wire transfers

Issue ACH requests

Pay taxes

Pay bills
Put technology to work for you. Online Cash Management has never been easier-it's like having a dedicated financial planner as part of your staff. Sign up today and start putting technology to work for you with our time and money saving Cash Management tool. Please contact a representative at (909) 393-8880 for a Cash Management application.