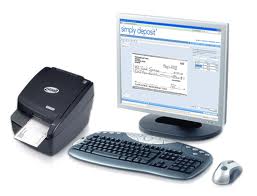 Today's businesses have an urgent need for enhanced payment capabilities. This is why Chino Commercial Bank has established Remote Deposit Capture solutions to help you manage your business more efficiently.

What is Remote Deposit Capture?
Remote Deposit Capture (RDC) is the commonly used term for electronically depositing checks at a remote location instead of carrying paper checks to a local bank branch. It is a check scanner and computer program that work together to allow you to deposit your checks instantly.  With RDC, you can deposit checks into your account in seconds and save time by reducing or eliminating trips to the bank as well as deposit preparation time. Simply feed checks into your scanner to make instant deposits into your Chino Commercial Bank business account.
RDC is inherently more secure than depositing paper checks at the bank. The risk of physically transporting the checks is removed. RDC also includes a number of built in safeguards like separation of duties and audit logging that further reduce the risks associated with check deposits.
Benefits of RDC:
Checks drawn on accounts with non-sufficient funds that are deposited by conventional methods would normally be returned after several days. These checks are now identified sooner, allowing you to address potential problems on a timely basis.

Eliminates labor-intensive tasks such as preparing deposit slips, endorsing checks, and driving to the bank.

Because RDC utilizes technology that recognizes the dollar amount in most checks, there is no need to manually enter this information. Simply review the scanned information before approving the deposit.

RDC automatically archives an easy-to-access digital copy of every check you scan, eliminating the need for you to make photocopies of electronically deposited checks.
If you are interested in getting RDC for your business, Contact us for more information.